Instructions on sampling and sample shipment
as well as important safety instructions
The following instructions for sampling and sample shipment as well as the safety instructions contain important information to be observed in the course of the fuel check. Working on, maintaining, repairing, or operating a back-up power system is a very responsible task. This emergency power system must function safely in an emergency situation. As conscientious as the system must be looked after by regular maintenance, oil changes and test runs, the sampling described below must also be carried out.
The fuel in emergency power systems is sometimes stored for years, but fuels also age. The fuel sample you draw will be analysed by Tec4Fuels and evaluated for quality.
Service-Kit
For sampling, we have sent you a service kit with the following contents. Please first check that the service kit is complete:
1 shipping box plus hazardous material label
1 sample accompanying sheet and 1 sticker with tank code per tank and canister
1 plastic canister (2 liters) with safety lid per tank
1 sampling hose with hand pump per tank
1 pair of protective gloves
1 cleaning cloth
3 sealable plastic bags
Please check in advance whether the labeling of the stickers correspond to the tank codes on the accompanying sheet for the sample according to the data entry form.
If you have any questions, problems or incomplete service kit, please feel free to call us:
Tel. +49 2407 55830-00
WARNING: Use this service kit only for sampling light heating oil or diesel fuel!
Sampling
Proceed as follows according to these sampling instructions: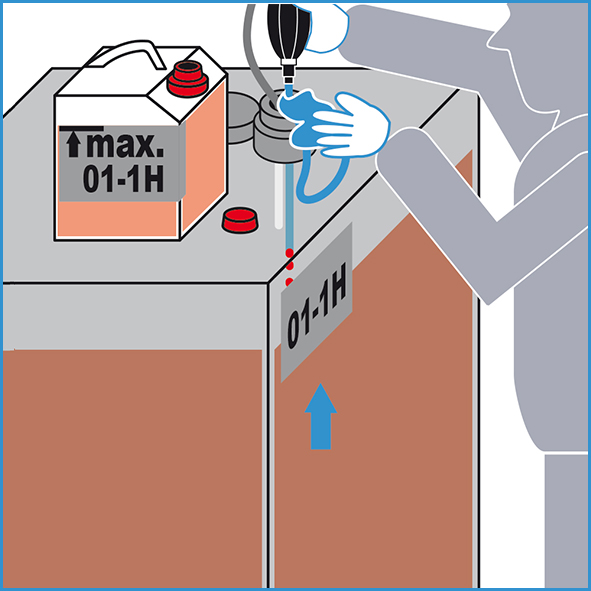 7. When the canister is filled, hold the short hose end back into the extraction opening and slowly pull the long hose end out of the tank through the cleaning cloth. While doing this, empty the pump and hose by pumping the fuel back into the tank until nothing is pumped. Any last residual amounts in the hose can be allowed to flow back into the tank. Wait until the hose has run empty.
Documentation
Be sure to fill out the tank system survey as a sample.
Please check that the labelling on the canister also matches the respective tank code.
Please send the completed tank system overview via email to Kraftstoff-Check@tec4fuels.com.
Shipping
Proceed as follows when shipping fuel samples:
The shipment is made by picking up the package by GO! Express & Logistics. The shipment goes to the analysis laboratory GMA in Frankfurt, not to TEC4FUELS. When the return box is ready for shipment, inform us at: Kraftstoff-Check@tec4fuels.com. Please specify the pickup address as well as pickup date and time window. We will arrange the collection for you.
Safety instructions for sampling fuels from emergency power systems
Please be sure to observe the following safety instructions in accordance with the sampling instructions.
Use your personal protective equipment
Please wear suitable protective clothing when working. Suitable are safety shoes or boots, safety goggles with side protection in case of splashes and gloves protecting against aromatic hydrocarbons.
Technical protective measures
Do not use a cell phone during sampling. Keep the sample away from ignition sources (open flames and sparks) and heat sources (hot pipes or surfaces).
DO NOT SMOKE! NO OPEN FLAMES!
During sampling
Do not eat, drink, or smoke while collecting samples. Avoid contact with skin, eyes, and clothing. Do not put fuel-soaked rags in pockets of work clothing. Wash hands before and immediately after handling fuel. Wash off fuel on skin with soap and water. Remove contaminated clothing and shoes. Gloves must be inspected regularly and replaced if worn, punctured or contaminated.
KEEP AWAY FROM FOOD, DRINKS, AND PET FOOD.
Provide adequate ventilation. When working in enclosed spaces (tanks, containers, etc.), make sure beforehand that there is an atmosphere suitable for breathing. Vapours may form explosive mixtures with air. Do not smoke! Avoid inhalation of vapours or mist. Avoid contact of the fuel with skin, eyes, and clothing.
NEVER ASPIRATE FUEL BY MOUTH!
Avoid formation of vapor, mist, or aerosol. Do not use compressed air for filling, emptying, or handling.
If something does happen
Eye contact:
May cause mild irritation. Flush eyes thoroughly with plenty of water, including under eyelids. Check if contact lenses are worn and remove if necessary. Then rinse the eyes. Consult a medical specialist if eye irritation persists.
Skin contact:
Heating oil and diesel may cause skin irritation and/or dermatitis. Wash skin with soap and water. Seek medical attention if skin irritation persists.
Ingestion of fuel oil or diesel:
DO NOT induce vomiting because the risk of aspiration is very high. Fuel may enter lungs and cause damage. Do not give anything to drink. Take affected person to hospital immediately. Do not wait until symptoms appear, they can be fatal. Call the emergency doctor immediately!